IIt's funny how one is first inspired to create in a new medium.  Last year I hired someone from Etsy to create custom embroidered patches for a coat I was making.  I needed Welsh  dragons of a certain size.  And not knowing if the Etsy provider would pull through in time, I decided to try to hand embroider the dragon myself.  To my delight and my dismay, I learned I could do it by hand but I could not make all eight.  It was the job for a machine.
But in my attempts to learn it on my own, I came across some Google images of artists doing truly amazing work.  I was inspired.  Some artists stitch with machines, others by hand and some use a combination of fabric appliqués and stitch.  One artist in particular inspired me. Her name is Sheena Liam. Her portraits are simple outlines but it is her hair stitching that makes the art pop. And it the work of the hyper-realistic thread painters like Cayce Zavaglia that convinced me to paint with thread.  Her work is beyond extraordinary and to be honest a little freaky. Freaky in the sense that her work is so realistic, you will question your own sanity when you have to reconcile its thread and not paint.
SuRie Portrait
SuRie is an English singer/songwriter with flawless porcelain skin and trademark white and pink hair. This was my first attempt at stitching hair.  In this mixed media portrait I hand embroider on then linen and use a sewing machine to stitch the crown pattern cotton fabric to create a blouse.  8×8 inches.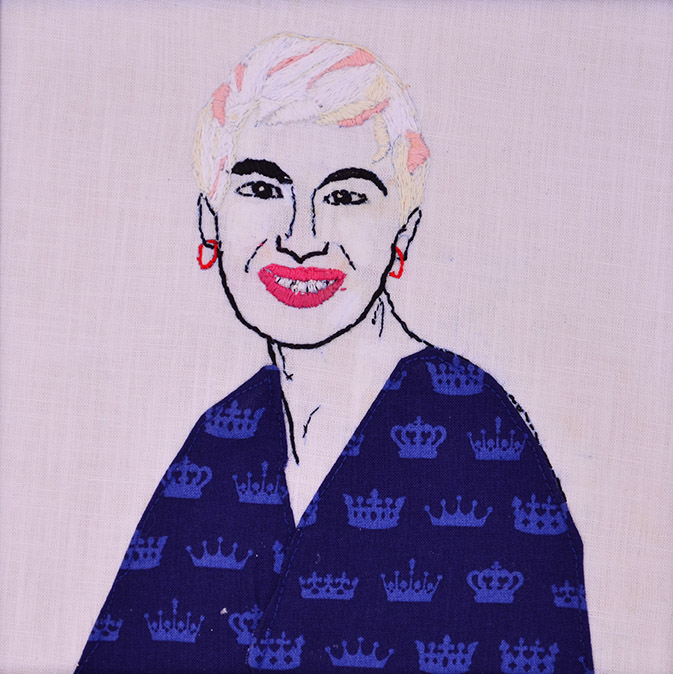 Dreaming in Deep Shag Portrait
The inspiration for "Dreaming in Deep Shag" came from a 1960s black and white photo I found.  The photo was an intimate portrait of a nude male sleeping on a deep shag carpet.    Yellow beads are primarily used for the hair.  I love how from a distance it looks like an impressionist oil painting.  I used a tapestry stitch to blend shadows and highlights,  The portrait is hand embroidered on a yellow patterned fabric designed to create a dream-like state. 9 x 12 inches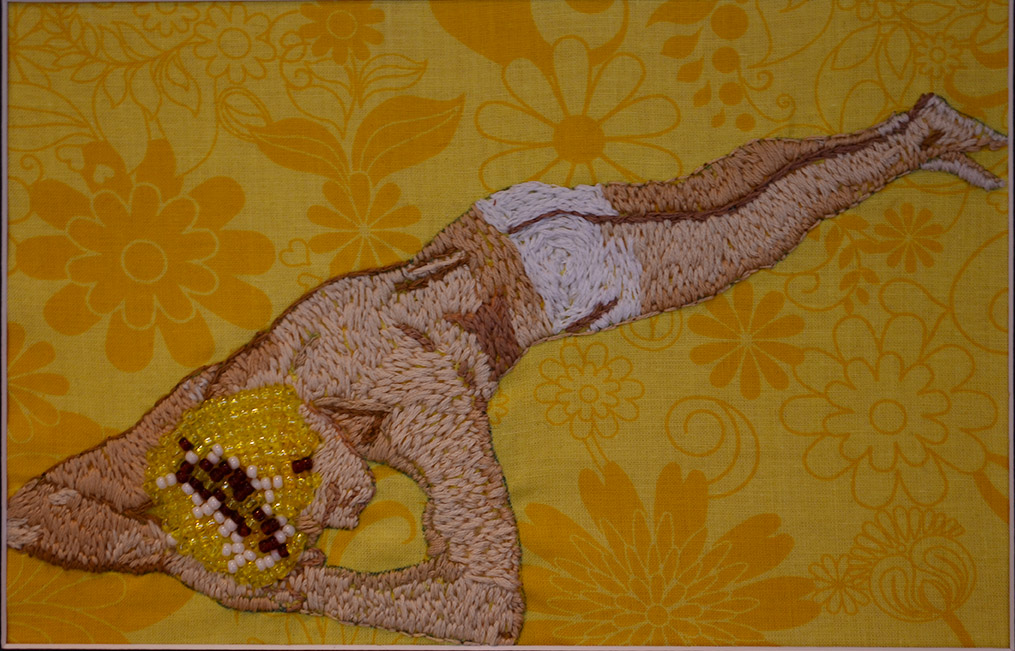 Sleeping in Deep Shag appeared in the group exhibition for Threadworks.