What is a punch needle you ask? Imagine a pen with a stainless steel needle at the end. You simply punch the floss or yarn through the fabric which creates a small loop on the backside of the fabric. On the punch side of the fabric you will get a stitch similar to back stitch. The interesting thing about punch needle is there is no knot created. Yep not a knot. The tightly packed loops keep each other in place so no unraveling occurs. But the beauty of punch stitch is you can simply pull one end of the stitch and take out all your punched stitches and start again.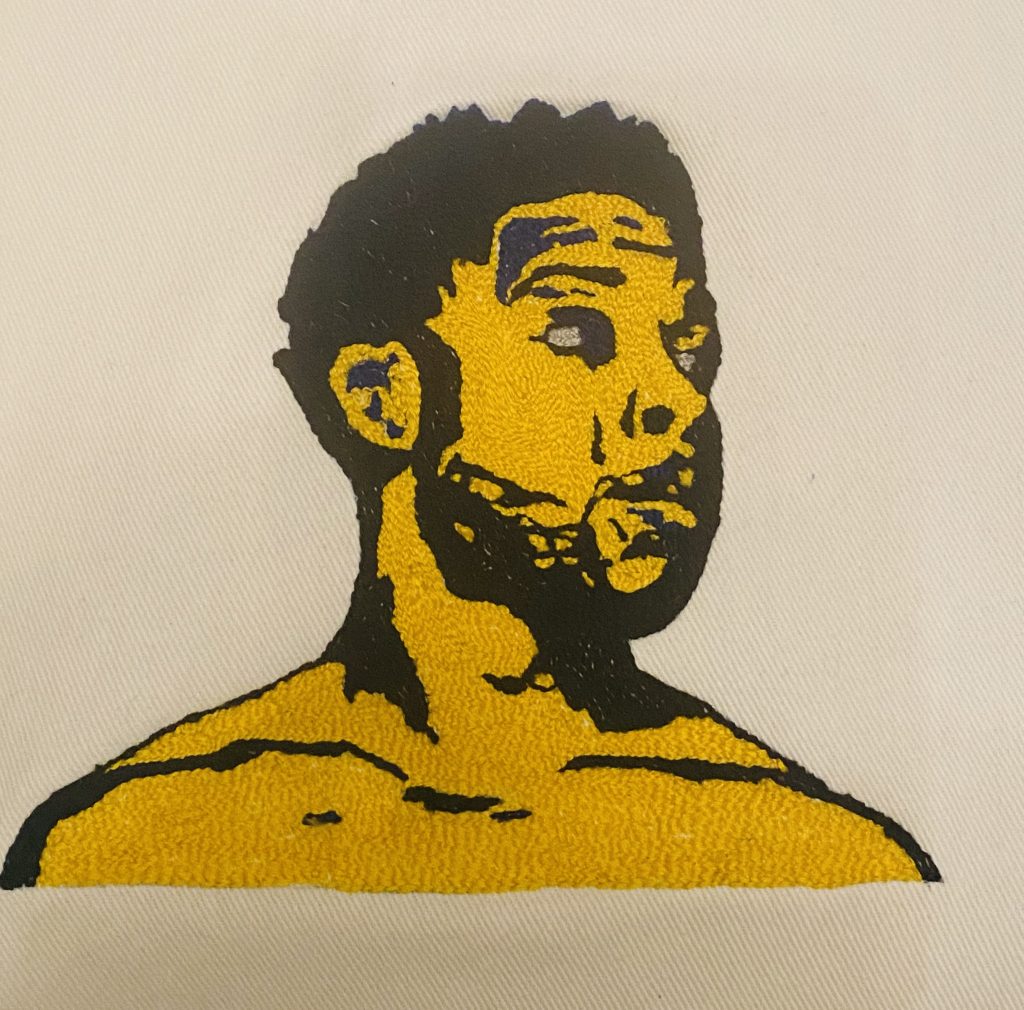 Punch Needle
Lately I have been obsessed with punch needle embroidery. Punch needle is similar to rug hooking. And it is a great craft that anybody can do. I use a tool called Ultra Punch which allows me to create fine detail using embroidery floss. But if you want to work with yarn you are better off using a tool like the Oxford Punch needle.
Another benefit to punch needle projects is you get two sides to choose from. Many artists prefer the stitched side to the loop side. And unlike traditional embroidery, you may have a tough decision to make as to which side you want to use, front or back. Many use Elmer's glue on the backside of the punches to create added stability in the event people start touching and tugging on the front side.
What Fabric Should I Use?
Ok now you know about the needle, so let's talk about tips for successful projects. First and foremost you need to start with the right fabric. If you are using a punch needle with embroidery floss, you may be able to get away with some lighter weight fabrics. I love using denim. It's available in lots of colors and has a nice weave to it.
Another great choice is linen fabric. If you are using yarn and bigger punch needle tools like Oxford punch, I would consider Monks cloth and Aida cloth. I heard Joann Fabric's monks cloth does not work. You need a weave that is not too loose (where loops don't stay in the fabric) or too tight (where the punch needle tears the fabric). I always say do a test punch on whatever fabric you want to use and if it doesn't tear you are good to go.
You can't teach this tip. When you punch you have to develop a rhythm. After you punch, you shouldn't lift the needle off the fabric. You punch, pull and glide to the next punch. Then tightly punch lines of rows together. Be conscious on the direction of the punches as they will create a texture as well. If you can see fabric between stitches, you are not stitching close enough. But luckily you can just fill them in. Practice, practice, practice.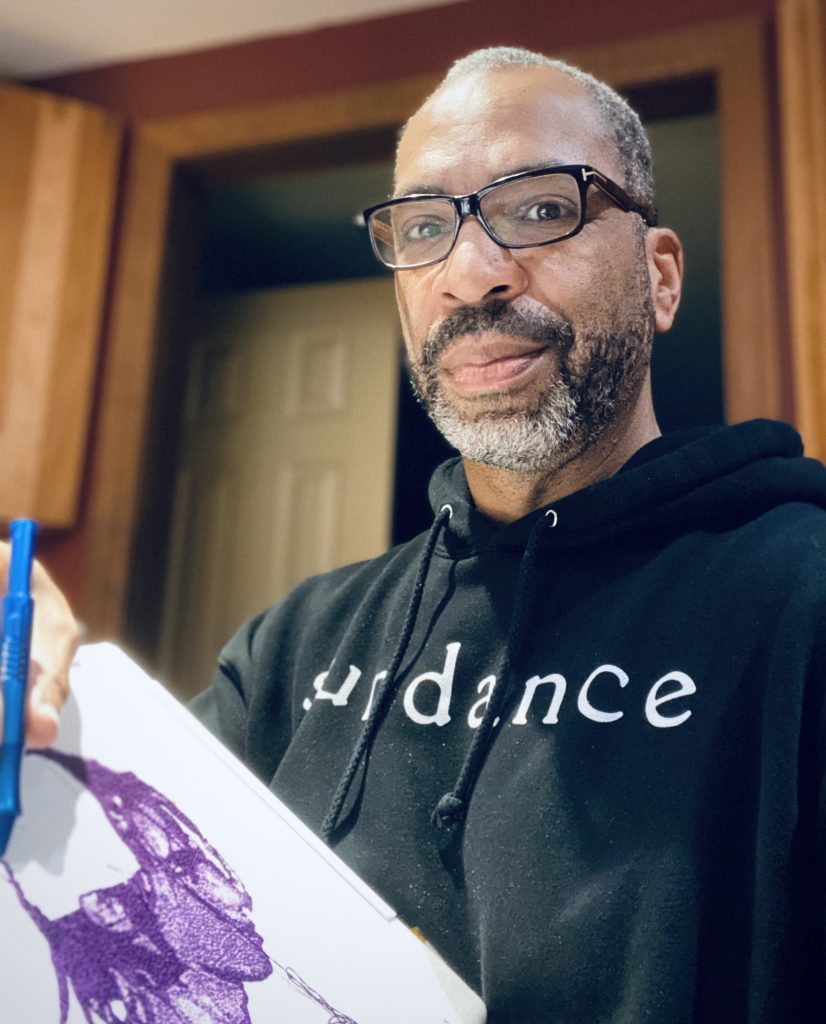 Your Image
Finally decide on an image you want to punch. You can transfer it onto your fabric in many ways. Iron on pens are great. You can trace the image with the pen, then iron it to your fabric. Or you can use carbon paper or Iron on transfer pencils. Just remember it will be reversed, so if you are doing words you have to carefully decide whether you need to create a mirror of the words.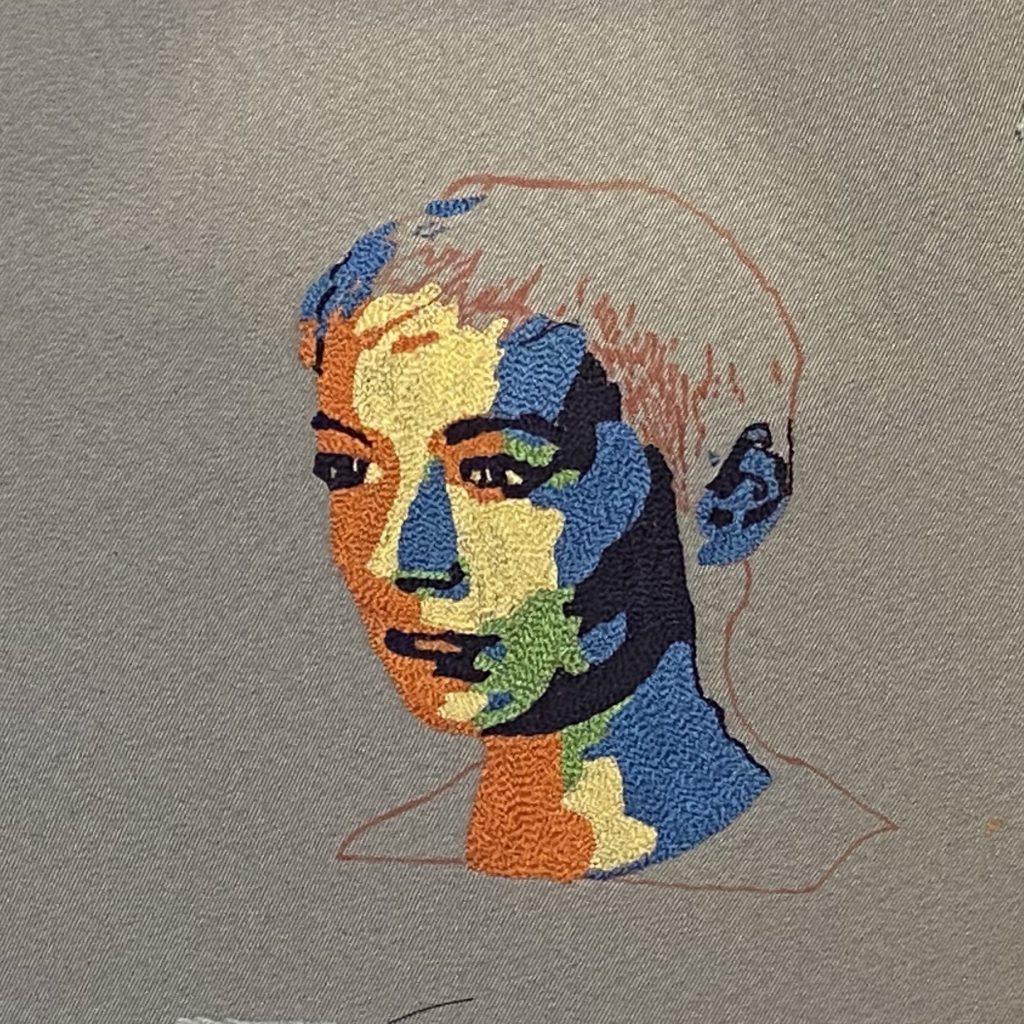 Now I have got nothing against butterflies, birds and rainbows. But common on, let's try some unexpected images: interesting portraits, a dog peeing, a rotten apple. Tell a story that allows your audience to wonder what's going on in your head. Make them want to see more!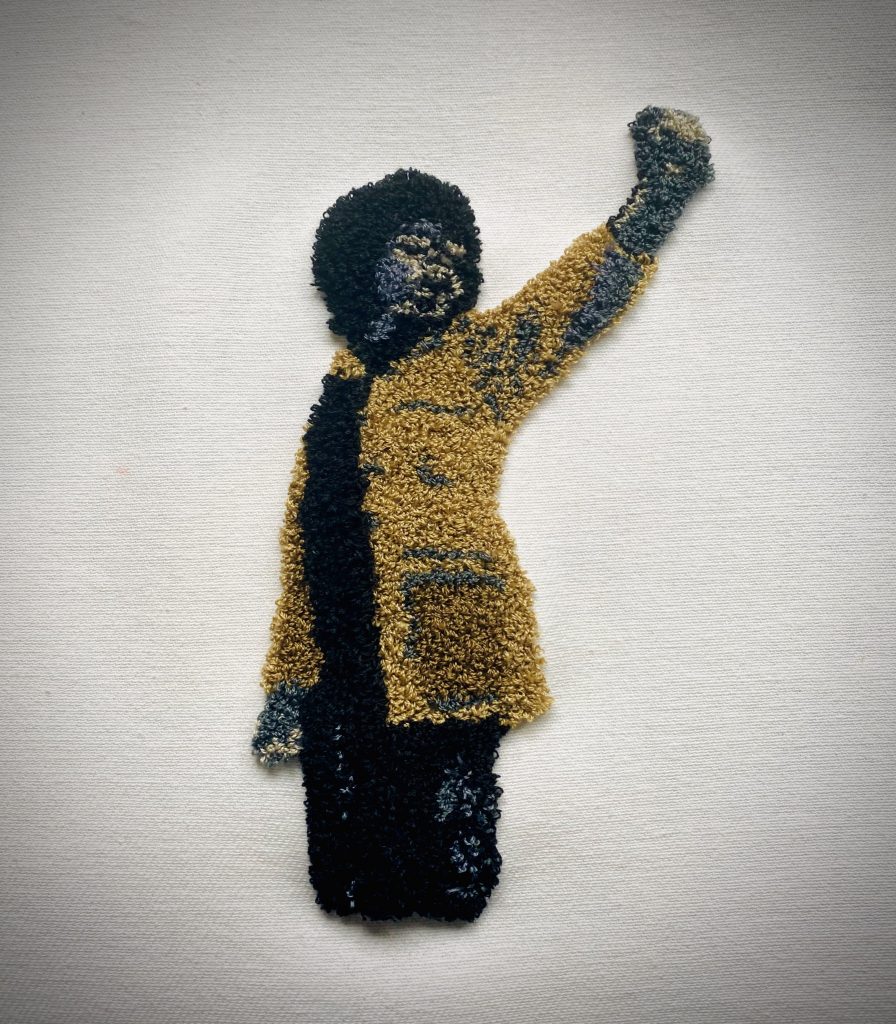 Keep it Simple
Another tip: pick 2 to 4 colors to use in your creation. When in doubt, pick a color you like and use it in a monochromatic scheme. For example, if you choose green pick (1) a very dark green that has a lot of black in the color, (2) a very light green (with a lot of white in the color) and (3) a green that is in its purest form. Light green for highlights or very dark green for darks and shadows and the purest green for all other areas. Keep it simple for your first run at this. Also try to minimize the number of lines in the image. Think blocks of color. But the blocks of color together should still convey the essence of your image so your viewer is not guessing.

So if you can color within the lines of a coloring book, you can make punch needle creations. Give it a try. Cheap punch needles can be purchased at stores like Joann Fabric for about $10. But if you think you are going to do a few projects, I would invest in a punch needle in the $25-$40 range. Good Luck.