A few years ago I went to a garden center looking for hardy deer resistant plants. But the garden center employees kept pointing me to the few plants I already had. The Barberry bushes, boxwoods, heathers, pachysandra and leucothes, I thought that had to be more. I wanted something with flowers for spring. I was unsuccessful with tulips. The deer just waited till the bud was about to open and they would chomp it off. After doing some online research I discovered the beautiful hellebore. And after three years, the deer have not eaten one.
Deer Resistant
I discovered the reason why deer leave this plant alone. Hellebores contain alkaloid toxins. Because of their toxicity, many consider hellebores as deer-resistant garden plants even though the container fails to list it as "deer resistant." This herbaceous or evergreen perennial is disliked by deer and other animal pests prone to munching on plants. Since all parts of the hellebore plant are poisonous, make sure to keep children and pets away.
The poisonous nature of the hellebore is probably why you will not find these plants in the garden center of your local Big Box store. And don't wait until May to look for these plants, favorites of avid gardeners, as they disappear from nurseries by the middle of April. Another alternative is to order these deer resistant plants online for delivery to your house in the spring.
The Flowers
Flowers of hellebores bloom in late winter to early spring, sometimes while the ground remains covered with snow. Different varieties of the hellebore plant offer a range of flower colors, from white to black. These flowers are also quite fragrant and long-lasting. Many hybrids of hellebores offer a range of flower colors that often change as they mature. Planting hellebores on a hillside allows you to see into the blooms.
Planting and Maintenance
Once established, hellebore care is minimal.  Because hellebores naturally become very root-bound in containers, it is important to remove the potting mix and loosen the roots. This will make it much easier for the hellebore root to acclimate to its new environment.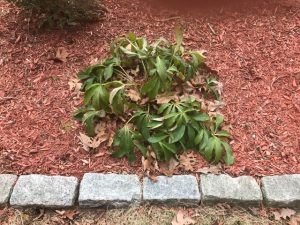 In addition to its deer resistance, hellebores are renowned for their tolerance of drought and neglect, although they truly thrive when grown in a moist, but well-drained soil. Hellebore care generally includes removal of older leaves when they appear damaged. Care for hellebores should also include fertilization. Too much nitrogen may result in lush foliage and a shortage of blooms. In summer if the plant looks droopy, you should soak the soil with water thoroughly and the plant will bounce back in a matter of hours.
For more tips on hellebore care check out this site.
If hellebores are not your thing, consider planting herbs like rosemary as  a deer deterrent. What makes rosemary so wonderful—its unique smell—also makes it unpalatable to deer and other wildlife.  For more information about rosemary check out this link. https://happydiyhome.com/how-to-propagate-rosemary/